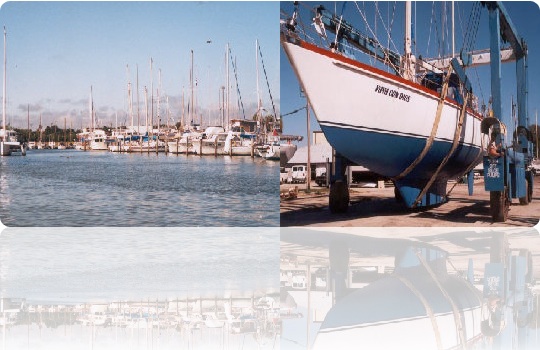 We are a family owned and operated business that has been thriving since 1979. Our Boat Yard is just what you need to complete any size project: big or small. We offer a brand new powerful 75 MT Travelift for hauling vessels, and our newly rebuilt 22′ wide boat slip gives us plenty of room to work. For smaller vessels our 15,000 pound forklift can safely and efficiently get the job done.
In addition, Riverside is one of the last true SELF SERVICE boat yards left in South Florida. So, whether you plan to do it yourself or need a helping hand, Riverside Marina is the right place for you!
You'll love our full range of marina services, as well as the convenience of an on-site, fully stocked marine store, mechanic shop, and our in-house welder. Looking for a place to store your boat? Look no further. Riverside offers Seasonal and Working storage for vessels up to 105′. We can provide Dockage for vessels up to 105′. Car and truck storage is also available for seasonal customers. And, of course, ease of access is wonderful. you can follow marked deep water channels from Ft. Pierce Inlet (just a few miles away) right to our docks. 110 and 220 electric is available should you desire to stay aboard.